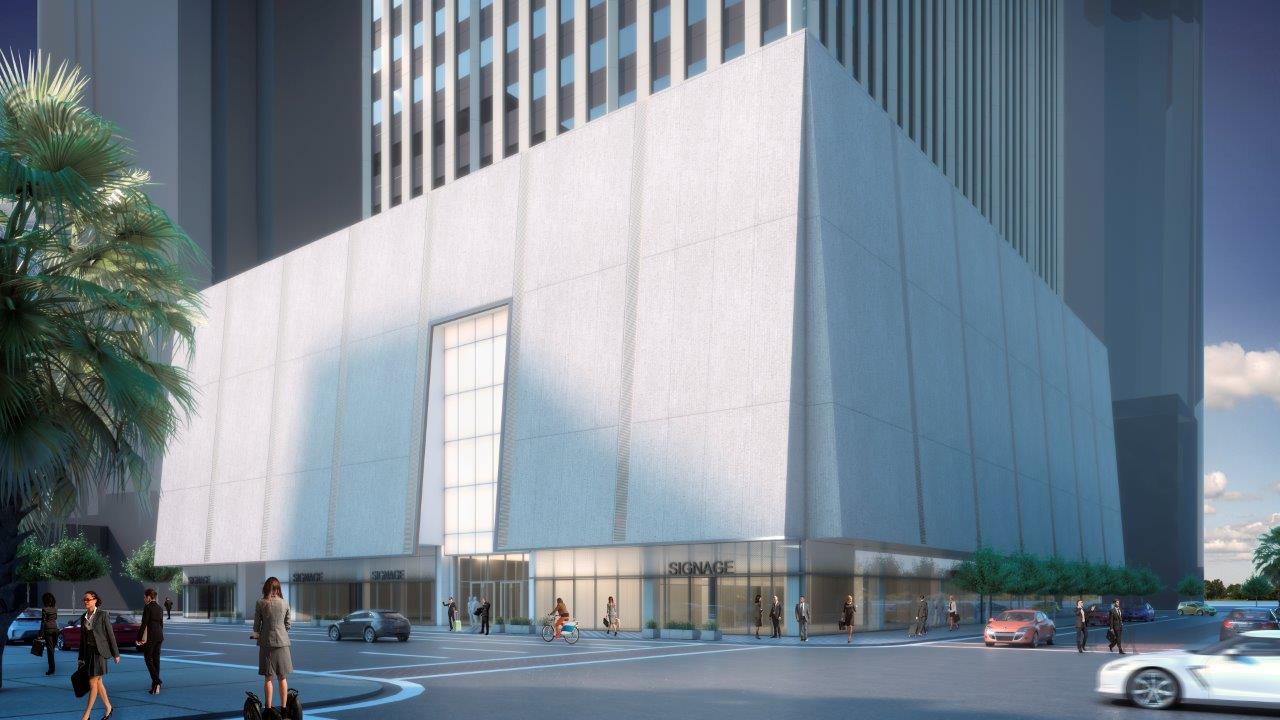 In conjunction with City Office REIT, Inc. (NYSE: CIO) ("City Office" or the "Company") Feldman Equities and Tower Realty Partners have commenced an extensive multi-million renovation on downtown Tampa, Florida's Park Tower.
In November 2016, a joint venture partnership consisting of City Office, Feldman Equities LLC and Tower Realty Partners acquired Park Tower for $79.75 million. These groups have partnered together and previously renovated other notable office buildings in the downtown St. Petersburg, Florida market.
The most dramatic change at Park Tower will be the modernization of the 475,000 square foot office building's façade which includes painting the exterior a lighter color and a new and dramatic entrance.
The building's amenities will be also upgraded with a striking new lobby. "The renovation of Park Tower will use glass and light to reposition this prominent historic structure as one of the most notable and exciting buildings on Tampa's skyline," stated James Farrar, Chief Executive Officer of City Office.
Internationally-renowned architect Gensler is the designer for both the exterior façade and the building amenities. The updated design extends a brand to Park Tower that will create a Class-A experience that persists from the sidewalk to the tenant door. "The opportunity to renovate our city's original high rise is a real honor, and we're excited to reposition Park Tower as one of the premium assets in the downtown core," stated Bert Oliva, Principal and Managing Director of Gensler's Tampa office.
"We are taking full advantage of Park Tower's location across from the Tampa Riverwalk," said Larry Feldman, Chief Executive of Feldman Equities LLC. "The removal of high perimeter knee walls and installation of stunning glass storefronts with bright lighting will immediately announce the entrance and make it inviting to the streetscape."
In addition to exterior renovations, plans include the addition of new tenant amenities, including:
High-end lobby café with seating
6th floor "Chill Zone" tenant lounge
All new fitness center and yoga room with spin bikes
Shared tenant conference room
New lobby concierge desk
Renovated parking garage with new LED lighting
Mike DiBlasi, Feldman Equities Executive Vice President for Leasing and Marketing, expects the renovations and spectacular views of Hillsborough Bay, the Hillsborough River and the Downtown Tampa skyline to assist with the quick lease-up of the building's remaining office space. "We have had tremendous success at leasing up our past projects after completing our renovation plans, and we expect that Park Tower will be similarly successful. Park Tower currently has full floor availabilities, including a full floor of just-built, move-in ready spec suites. This is a great opportunity for tenants of all sizes to move into the heart of downtown," said DiBlasi.