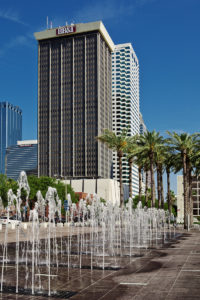 A joint venture consisting of affiliates of NYSE listed City Office REIT (NYSE: CIO), Feldman Equities LLC, and Tower Realty Partners has acquired Park Tower, a 36-story, 475,000 square foot office building located in downtown Tampa. The joint venture purchased the office building for $79.75 million.
The joint venture intends to make a substantial investment in the property to modernize the building. The building is approximately 86% leased. Its anchor tenants include BB&T, United States Department of Justice – US Attorney's Office, Level 3 Communications, and Lykes Insurance.
City Office REIT currently owns approximately 1.0 million square feet of office properties in the Tampa Bay market. "We are strong believers in the Tampa Bay market with its tremendous job and population growth and are excited to add Park Tower to our expanding portfolio," commented Jamie Farrar, CEO of City Office REIT.
"As with our other downtown acquisitions, this is yet another opportunity for us to do what we do best – renovating and upgrading office buildings in order to maximize their value," commented co-owner Larry Feldman, CEO of Feldman Equities. Mike DiBlasi, Feldman Equities Executive Vice President for Leasing and Marketing, will lead leasing efforts. "Located at the corner of Kennedy Blvd. and Tampa St., Park Tower sits on the most important intersection in Tampa. This is a great opportunity for a tenant looking to move into the heart of downtown," said DiBlasi. Park Tower offers spectacular views of Hillsborough Bay, the Hillsborough River, and the Downtown Tampa skyline.
"Downtown Tampa is undergoing a remarkable revitalization with numerous residential developments and the emergence of the Tampa Riverwalk entertainment district," stated Feldman. "We are elated to be at the forefront of the downtown's revitalization."
About City Office REIT, Inc. http://www.cityofficereit.com/
City Office REIT is an internally-managed real estate company focused on acquiring, owning and operating high-quality office properties located in leading markets in the Southern and Western United States. City Office currently owns or has an interest in 4.0 million square feet of office properties. Additional information about City Office is available on the Company's website at www.cityofficereit.com. The Company has elected to be taxed as a real estate investment trust for U.S. federal income tax purposes.
About Feldman Equities, LLC www.feldmanequities.com
Over the past 30 years, Feldman Equities has developed or acquired over eleven million square feet of office and retail properties with an aggregate value in excess of $3.0 billion. Feldman is a "re-inventor" of the office building and specializes in turning around distressed office assets. Feldman Equities and its partners own and manage 1.6 million square feet of office space in downtown Tampa and downtown St. Petersburg.
About Tower Realty Partners www.towerrealtypartners.com
Tower Realty Partners is a privately held, commercial real estate investment & management company based in Orlando, Florida. Founded in 1987 by principals Cliff Stein & Reid Berman, Tower Realty partners has been involved in the acquisition, leasing, and management of over 20 million square feet of real estate totaling in excess of $1.6 billion in transactions.